Cheap Hotels in Salford Quays
Discover the Cheap Hotels, Aparthotels and Serviced Apartments in Salford Quays Media City
Whether you're planning a trip to Salford Quays, Manchester Arena or looking to catch a game in Manchester United? Well, look no further, Quays Apartments offer cheap hotels in Salford Quays.
As football season is here, finding an affordable hotel close to the City Centre and local attractions can sometimes be a tricky job. But now cheap hotel stay in Salford Quays is much cheaper than you have ever expected.
Greater Manchester is an exciting and colourful city with so much to offer. World –famous for its beauty, sports also a top-notch destination for music lovers and those who love to soak up the nightlife. Rich in culture, the city has fascinating museums and galleries to explore, not to mention the excellent high street, designer and vintage shopping throughout the City Centre, and a number of countless tempting restaurants to cater multinational cuisines.  Also, when it comes to accommodation, there are many Cheap  Hotels in Salford Quays and Manchester.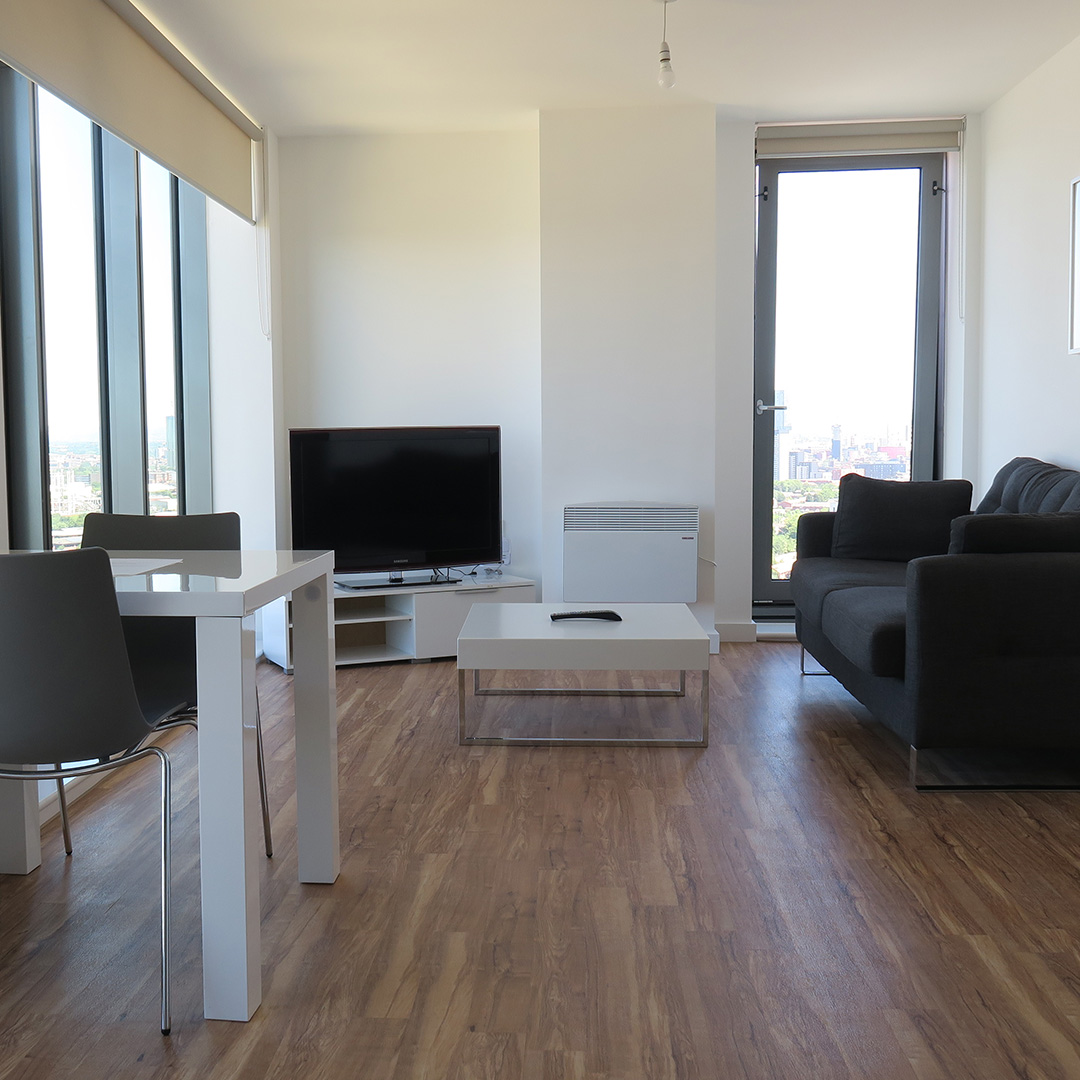 Your ideal hotel Accommodation in Salford Quays Awaits. Experience Unmatched Comfort and Convenience at Quays Apartments.
We provide cheap hotels, aparthotels and serviced apartments in Salford Quays
Perfect for business travellers, tourists, and anyone seeking affordable luxury
Enjoy exceptional comfort, convenient location, and unbeatable affordability
At Quays Apartments Salford Quays, we are dedicated to providing you with a seamless and unforgettable stay in the heart of Salford Quays Media City.
Located just minutes away from Manchester United's Old Trafford and Manchester City Centre, our accommodations allow you to immerse yourself in the vibrant energy of the city while also enjoying the tranquillity and beauty of Salford Quays. With spectacular views of Media City and its iconic architecture, you'll wake up to a visual feast each morning.
Whether you're a business traveller, a tourist exploring Manchester, or simply looking for a cosy place to call home for a while, our apartments are designed to meet your every need. The stylish and contemporary interiors provide a welcoming atmosphere, while the fully equipped kitchens and spacious living areas ensure that you have all the comforts of home at your fingertips.
By choosing cheap hotels in Salford Quays, you'll not only save money but also enjoy the freedom and flexibility of a self-contained apartment hotels. Whether it's for a short stay or an extended visit, our accommodations offer an unparalleled level of convenience and value.
Book Now and Experience Affordable Luxury & Discover Your Home Away from Home Today
Modern and Stylish Apartments
Indulge in the contemporary charm of our serviced apartments, designed to create a relaxing and inviting ambiance. Discover Your Stylish Retreat Today & Experience Unmatched Comfort in our Modern Apartments
Convenient Location
Benefit from our prime location in Salford Quays, allowing easy access to Media City, Manchester United's Old Trafford, and the bustling Manchester City Centre. Explore the night life and immerse yourself in the energy of the city.
Explore the Exciting Neighbourhood Around Us
Exceptional Hospitality
Experience our unparalleled hospitality, as our friendly and attentive staff is dedicated to ensuring your every need is met. From seamless check-ins to personalized recommendations, we go above and beyond to make your stay memorable.
Media City Salford Quays expansion Report in Manchester Evening News
According to Manchester Evening News, Salford Quays remains one of the greatest success stories. Salford Media City UK will see regeneration double in size over the next decade, with Landsec partnering with Peel L&P alongside Salford Quays Council's 2030 vision.
Plan is to expand Media City UK and Salford Quays with around 3200 more homes, 300 new hotel rooms and 800,000 Square ft of commercial space could be built. https://www.manchestereveningnews.co.uk/news/greater-manchester-news/salford-quays-undergo-another-major-27859754
FAQs
Are there parking facilities available?
 Yes, we provide secure and convenient parking options for our guests at an affordable rate.
What amenities are included in the apartments?
Our apartments are fully equipped with amenities such as a kitchen, free Wi-Fi, comfortable furnishings, and more.
Is there a minimum stay requirement?
We offer both short and extended stays, allowing you to choose the duration that suits your needs.
Do you provide housekeeping services?
Yes, we offer regular housekeeping services to ensure safe, clean and comfortable stay.
What is the cancellation policy?
Our cancellation policy allows for flexibility, but we recommend contacting us directly for more details.
Are there laundry facilities available?
Yes, we provide convenient laundry facilities within our premises for our guests' convenience.
Are there nearby dining options?
Salford Quays offers a wide range of dining options, allowing you to explore various cuisines just a short walk away.
Can I request additional amenities or services?
Absolutely! Our friendly staff is always ready to assist you with any additional requests or services you may require.
Is there 24/7 customer support available?
 Yes, we have a dedicated customer support team available around the clock to address any concerns of our guests may have.
People from across the world visit Salford Quays & Manchester for a variety of reasons. Hence, whether you're off on an escape, a night out, or a football match, don't spend more than you have to; hence book our cheap hotels in Salford Quays surrounded by Manchester United and media city Salford.
Book your stay with us at our Cheap hotels and serviced apartments in Salford Quays & Manchester
Call us on +44 161 2251423 or email us directly at info@quayapartment.co.uk
Alternatively, send us a message through our contact form and one of our staff members will get back to you as soon as they can!