Serviced Apartments Manchester
Looking for Serviced Apartments in Manchester? Look no further than Quays Serviced Apartments Manchester for your accommodation needs. Nestled in the heart of the Manchester Northern Quarter. Quays Serviced Apartments are just a few minutes' stroll away from Piccadilly, Deansgate, and the Manchester Arena.
Manchester is home to both football clubs i.e. Manchester United and Manchester City, and they are just 5 to 8-minute drive away. At Quays Serviced Apartments, we don't just offer comfortable lodging but also provide self-catering facilities with fully equipped kitchens, making it an ideal choice for those who wish to relax and enhance their culinary skills. Our self-catering serviced apartments come complete with soft furnishings and cooking utensils, affording your family or friends ample space and privacy.
Manchester, the capital of the North of England, is a vibrant city teeming with energy, diversity, and a thriving nightlife. It's a destination beloved by people from all corners of the globe, especially for its sports culture & nightlife. The heart of Manchester city centre is a bustling hub, offering a plethora of renowned restaurants, pubs, and well-known brands, presenting you with a delightful array of choices.
We are in the centre of one of the city's gem Northern Quarter, a hotspot for music enthusiasts, featuring charming pubs and serving as a meeting point for businesses and night-time revelry. Manchester proudly boasts its legacy as the birthplace of the industrial revolution, a heritage that continues to thrive within its robust business community.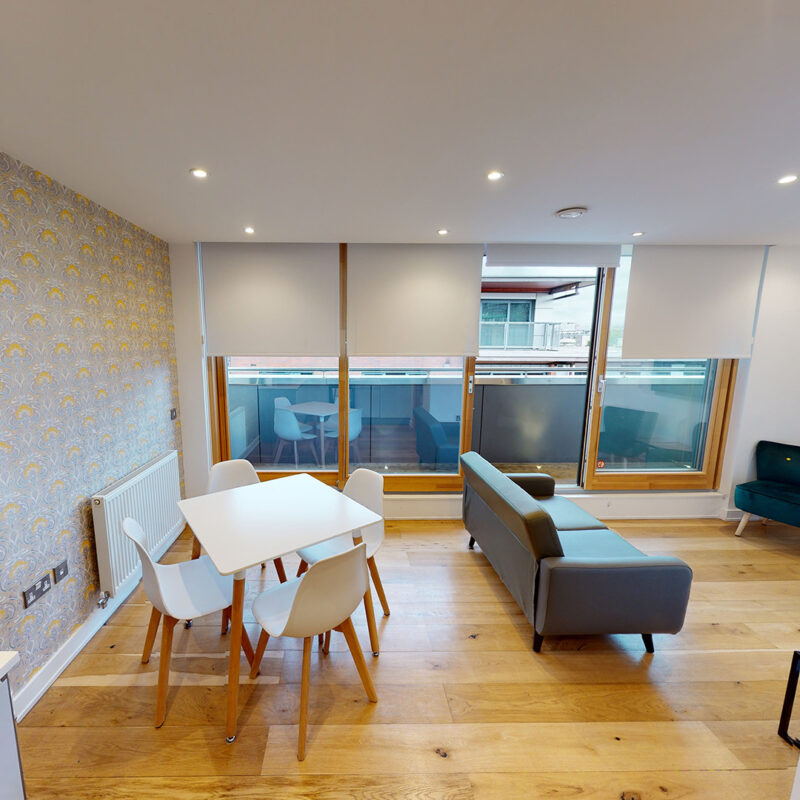 Reports indicate a growing trend of entrepreneurs migrating from cities like London to Manchester, drawn by the burgeoning opportunities in sectors such as banking, real estate, media and start-ups. Quays Serviced Apartments in Manchester offers a range of accommodations, including studio, one-bedroom, and two-bedroom serviced apartments.
Studio Serviced Apartments in Northern Quarter Manchester | Serviced Apartments Manchester
Our studio apartments are not only affordable but also versatile and in the centre of Northern Quarter Manchester. Offering multipurpose rooms with a kitchen, a comfortable bed, a living area, and an attached bathroom. They are the perfect fit for solo travellers.
One Bedroom Serviced Apartments in Northern Quarter Manchester
Designed to cater to couples and business travellers, our one-bedroom serviced apartments in Northern Quarter Manchester City Centre feature a spacious bedroom, a generous living area, a separate kitchen and a bathroom. These apartments also offer spectacular city centre views from the balcony.
Two Bedroom Serviced Apartments in Northern Quarter Manchester
Ideal for families and corporate travellers, our two-bedroom serviced apartments in Manchester City Centre provide four-star accommodations. They come with two spacious bedrooms, one of which has an en-suite bathroom, a luxurious living area, a kitchen, and an additional bathroom. We also offer the same range of two-bedroom, studio, and one-bedroom serviced apartments in Media City Salford Quays.
In Manchester, there's always something exciting to see, do, and explore, ensuring that you won't miss a single moment of excitement. Our luxurious Quays Serviced Apartments are strategically located in the heart of Manchester City Centre, granting you easy access to all the city's landmarks such as Manchester Arena, Bridgewater Hall, China Town, Albert Square, Granada Studios, Deansgate, Opera House, Oxford Road and Museums. You're guaranteed to leave with a treasure trove of discoveries that you never thought possible.
Quays Serviced Apartments seamlessly blend luxury, comfort and the feeling of home. Whether your visit is for business or leisure, we strive to create a lasting and meaningful relationship with our guests.
If you would like to make a booking please visit https://www.quayapartments.co.uk/ or call us on 0161 2415124.