Hotels Media City Salford
Quays 
Hotels Media City Salford
 offers corporate stay packages in luxurious hotels in
Salford Quays
, Manchester. We are well equipped with the best in class amenities and our corporate stay packages are better than any other
Luxury Hotels in Manchester.
Choosing a right Hotel in Manchester can prove to be expensive. However, Quay Hotels offer you the best in class serviced Hotels, which not only supersedes the comfort level offered in any hotels Media City Salford but are extremely competitive in terms of their pricing.
Hotels Media Salford Quays
Quays hotels media City Salford is one of the pioneer hotels in Manchester. We are the ones who actually explored the concept of Serviced Apartment hotels media city Salford Manchester. Nearly after seven years, we are proud to offer the kind of outstanding service that not only makes our customers happy but also exceed their expectations. Providing exceptional experience and customer service is something we always strive to achieve.
The city of Manchester is the renowned for sports, universities and diverse culture. Most major sports and football clubs are the pride of Manchester and we concede the fact that people from all parts of the world expect something more when they arrive here. Hence, we are committed to offering a pleasant stay that delights our customers.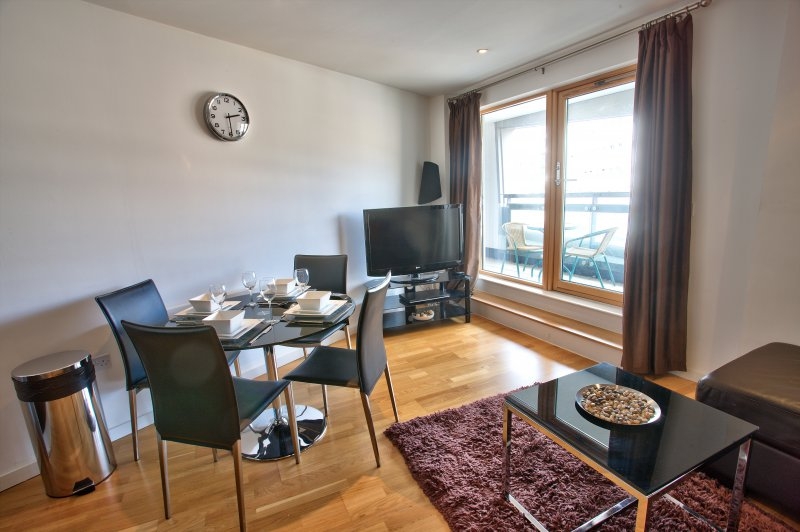 A PLEASANT STAY EXPERIENCE!
We offer luxurious and affordable Serviced Apartments and Aparthotels in Media City Salford. Contact us now, we will be happy to assist you. Our team is at your disposal to organize your stay and answer all your questions regarding your booking & stay!
Enjoy Your Stay in Hotels Media city Salford
If you fancy making Media City Salford your home, then our stylish and brand new hotels offer elegant ambiance and create an amazing experience which you will never forget.
Studio Hotel Apartments Media City Salford
Our studio hotel apartments are affordable and offer multipurpose rooms with kitchen, a bed and a living room along with the attached bathroom. Our studio apartments hotels are furnished with oak panelled floors and luxurious fittings, the ideal accommodation for single traveler.
One Bedroom Hotel Apartments Media City Salford
Our one bedroom hotels in media city Salford is an ideal accommodation for couples and business people with a spacious double room, a spacious living area, separate bathroom, and kitchen. Our one bedroom hotel stay has four-star rating and offers convenience and comfort to all our visitors. This also offers a spectacular view over the quays from the balcony windows.
Two Bedroom Hotel Apartments Media City Salford
Our two bedroom hotels media city Salford is four-star accommodations for families and corporate. It has two spacious double rooms, one with an en-suite bathroom, a luxurious living area, kitchen and separate bathroom and various other facilities.
Hotels media city Salford are surrounded by a variety of specialist shops, cafes, a famous chain of restaurants, riverside pubs, shopping malls, theaters along with major departmental stores and supermarkets catering for the day to day essentials. Quay hotels in Media City Salford have four-star accommodations for our visitors to call it a home
Serviced Apartments in Media City Salford
Quay Serviced Apartments hotel includes soft furnishing and cooking utensils so that tenants need not bring their own and have all the services like housekeeping, parking, the internet and an amazing view of Manchester from the balcony. Customers who are traveling with family or friend will have more space and privacy.
We at Quay Hotels in Media City Salford offer special packages available for short and long corporate stays. We are one of the handful luxury hotels in Manchester where an authentic and exclusive section of accommodation is reserved only for corporate guests to ensure a perfect business class environment. What we can offer is an elegance which is simply unbeatable, along with affordable price tag.
Quay Apartments offers various complementary services that develop the comfort for our clients to an optimum level, harmonizing their travel experience.
A warm and a welcoming atmosphere are created in our serviced apartments, unlike other hotels in Manchester city center. We create a relaxing environment so that the person staying in does not feel any sort of a discomfort and they can easily rest and get charged-up for the next day at work.  We offer you an unbelievable price, which no other hotel in media city Manchester can match with the same amount of luxury and elegance that we provide.
Technology is another area in which our apartments have an edge over other Manchester hotels in city center. There are various staple features of our apartment hotels in Manchester such as high-speed internet connections; telephony and wireless connectivity at an unbelievable price that makes us outshine in the list of luxury Hotels Media City Salford.
Our corporate stay package is equipped with cutting-edge household appliances and state of the art entertainment, heating and lighting systems to better suit the needs and expectations of corporate guests.
Quays Serviced apartments in Salford offers a relatively private and intimate accommodation unlike any other hotels media city Manchester, which enables corporate travelers to enjoy a home-like experience by involving in the day to day activities such as cooking and having their family to stay with them in a secure and well-equipped environment.
Our apartment hotels in Salford are just not affordable and suitable for corporate stays; we also are a choice for people around the globe because we offer services with an extremely high intent of customer satisfaction.
Hence, it's time to just pick the phone, make a call to us and our customer service team will assist you with the best accommodation and customized package. It's time that you should start planning your next stay at Quays Hotels Salford Quays. For more information please contact us on 0161 791 4766 or visit: https://www.quayapartments.co.uk/