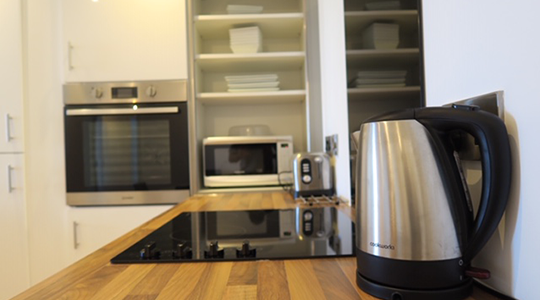 Are you looking for a flawless and ideal accommodation solution? Well, you need not worry. These days the demand of people to stay at Serviced Apartments has accelerated a lot. And why it shouldn't be? There are so many reasons that support this fact. Serviced Apartments like Quay Apartments in Manchester have become an indefectible choice of people who are looking for leisure as well as travel.  Let's look at some of the interesting reasons why people love to stay at Quay Serviced Apartments, Manchester.
1) 24-hours service by the attendants: Yes! This is true. As the name suggests, there are attendants, concierge, and porters available to assist and offer a helping hand to guests. These attendants are quite groovy and grounded and make guests feel comfortable with the knowledge they have. These porters not only guide guests about the local areas but also quite acquainted and wised-up with the tactics to make guests feel special, exceptional and out of the ordinary.
2) A home away from home: Yes! You are thinking right. Your stay at Quay
Apartments gives you a comfortable and homely feeling. These Apartments are too sheltered and delightful that you immediately have the feeling of your own sweet home. There are proper living as well as a bedroom that gives you a very cosy, convenient and relaxed feeling.  Moreover, the multiple sources of entertainment like LED TVs, music systems, a well-connected internet connection and more will make your stay unobjectionable.
3) Perfect Kitchens: Quay Apartments offer the comfort of enjoying cooking in your own special kitchens. Here, you can get everything from soup to nuts. The fully-equipped kitchen offers you utensils, dishwasher, microwave oven, refrigerator and so on. But when you are not in a good mood to cook yourself, you can order food from nearby restaurants and you simply sit and enjoy your meal.
4) Rejoice in the bespoke accommodation: At Quay Serviced Apartments Manchester, you can enjoy, be entertained and pleased. This is because you get all the special services at your call. From a special parking to ordering your favorite food to some other personalized services, hence you get the best of everything.
5) No invasion of your privacy: There is no invasion of your privacy by anyone. You can enjoy the complete privacy as well as can host any meeting in your living room. You have the free rein to enjoy and relax in your own space. You are given cart blanch to stay and enjoy as you like and be free from doubt that any attendant will disturb you from the Apartments.
6) Spacious enough to give you a breathing space:  As compared to the other common and regular guest rooms, the Quay Apartments are spacious enough to make you feel comfortable, untroubled and cared for. So, don't think too deeply. Whether you are travelling for leisure, professional work or with sweet family, you can go for it.
7) Staying here is worthwhile and full of security: If you are planning to book your stay at Quay Serviced Apartments, Manchester, then, be sure that your stay is going to be cost-effective as well as worthwhile. These Apartments offer 24*7 security related to parking, accommodation privacy and so on. Your stay will be your money's worth. The complete and nonstop security services will make your stay more comfortable and free from stress and tenseness.
So, it's time to stay at Quay Serviced Apartments if you are planning to travel either for a family trip or some urgent business work. If you plan to stay somewhere, stay well. And there is no better place than a Quay Serviced Apartments.
For more information please contact us on 08432892949 or visit our website: https://www.quayapartments.co.uk/