Welcome to Quay
Serviced Apartments Manchester
— fully furnished, habitable and convenient apartments. Whether you are looking for a business accommodation or relocation on a temporary basis, we offer the fully-furnished apartments that definitely act as a hotel alternative for our guests.
About Manchester
Manchester is a popular city with full of life, untiring energy and zippiness. Our Serviced Apartments are also full of bliss, luxury, delight and give you comfort and a feel of high-living. The team at Serviced Apartments Manchester believes in offering the unbeatable services so that you feel at home and in the bosom.
It can likely be possible that professionals can be on local or international visits. Companies want to host their stay at a place which offers all the required amenities like fully-equipped kitchens, HD TVs, comfortable beds to sleep on, laundry facilities, classy living space, housekeeping services, uninterrupted Wi-Fi services, neat washrooms with all the toiletries and so on. Quays Serviced Apartments Manchester provides all these facilities which make our guests' stay quite comfortable, contented and untroubled.
Serviced Apartment
There can be multiple reasons for your stay at a Serviced Apartment and therefore, we make sure that you stay in a relaxed and satisfying manner. The city of Manchester is known for enjoyable restaurants, pubs and bars, cafes and delis, coffee shops, microbreweries, vegetarian food and much more. But, our Serviced Apartments give you such a comfy, cozy and homely feeling that you feel contented with your stay and with the desired services within the apartment.
These short stay apartments offer quality accommodation as per your needs which actually act as a hotel alternative. Not only this, but staying at a Serviced Apartment actually saves your money which you would otherwise have spent while staying at a hotel. Whether you are on a weekend break, relocating for some time either for a personal or professional visit or there can be any other reason, Hence, Quay Serviced Apartments Manchester is the best option for you. These apartments offer an excellent base for your stay and are located at a convenient and time-saving location. So, you need not worry while staying here. These apartments are a perfect blend of comfort and suitability for professionals as well as leisure guests.
While staying at Quay Serviced Apartments Manchester, there is a lot of personal touch and connection with your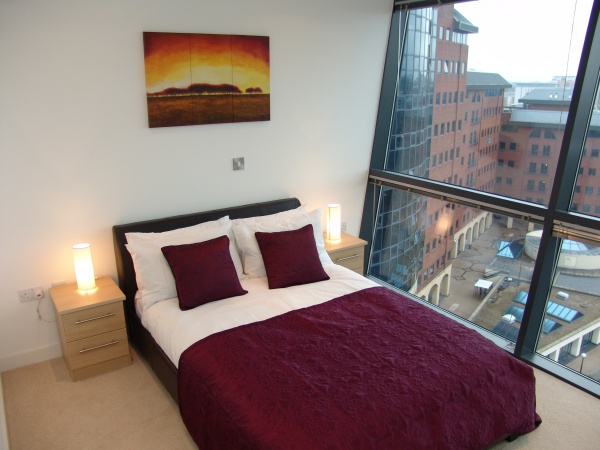 stay. You enjoy all the home comforts and that too at a price which meets your spending plan. There is more space, freedom, comfort, convenience, flexibility, privacy, customized plan, classy and authentic living. There is no reason which says that you shouldn't stay at Serviced Apartments Manchester. Enjoy your meals because you have a complete freedom to cook at your own comfort. The best of both worlds is right here in front of you. So, don't miss this! For an actual and authentic living, it's the best place for your stay.
It's time for a comfortable stay at Serviced Apartments. Whether you are looking for long-term or short –term stays, these apartments offer you services which are incomparable and matchless. Be assured of our support and assistance at every point of time.
It's easier and quite untroublesome to book your stay at Serviced Apartments Manchester. You can call us on 08432892949 to know more and we will offer you the best suggestion that will meet your desired expectations. We believe in greeting our guests and helping them with the most practical and constructive customized solutions. See you soon here at Quay Serviced Apartments!